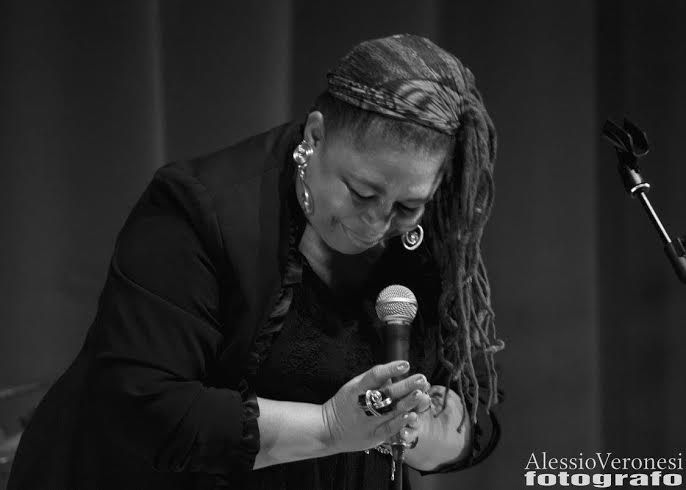 REVIEWS
"Love Is Never Lost"- Habaka awaits us here in a classic jazz-soul setting. Without a wedding with all of the frills, but with style and elegance. A reduced arrangement, with a subtle production, a quiet bossa beat, a solo of the jazz guitar and a voice that uses its feelings in a superior-controlled manner. Very nice for the night ... and the day after.
Von JS-Sonic Soul Reviews
"All in all it has to be said the lady can really sing"... (Living Blues Magazine)
HER VOICE IS PURE AND DEXTEROUS...PEGGY GUGGENHEIM COLLECTION (WORD PRESS)
In his play, "Twelfth Night" Shakespeare wrote, "Some are born great, some achieve greatness, and some have greatness thrust upon them."  Habaka is a perfect example of all three....(Anthony Darkstone, Global Music Club-UK)
---
BIOGRAPHY
International Vocalist Habaka, is the 2019 BMA (Black Music Awards) recipient of the "Best Female Jazz Vocalist" for Las Vegas.
During the pandemic, Habaka signs a record deal and her hottest new single "Love Is Never Lost", hits #4 on the Canadian charts.  This is her first single release with the UK's leading Classic Soul label Expansion Records released in January 2021.    
Coined "The Panther Of Cremona" in Italy and famous for her profound contralto voice, strong yet smooth and crystal clear, Habaka's voice calls to mind the sultriness and class of Cassandra and Nancy Wilson, the sassiness of Eartha Kitt, the subtleness of Shirley Horn, and even, when necessary, the big vibrato of Bessie Smith, Etta James and Mahalia Jackson, all wrapped up into one phenomenally talented woman...International Blues, Jazz, Gospel recording artist and served as midday radio host of Black Berry Jazz Radio, and Power Muzic Radio twice a week for 1 year, which prepared her to become the Vice President and radio personality of Habaka's Bee Hive, on Radio Teerex out of Montreal, Canada.

4 Octave International Classic BJ&G Vocalist born in the Music City Nashville, TN, and reared in Bloomfield, CT Habaka KFJ comes from a lineage of musicians and entertainers. Her grandfather Jerry Jackson was a pianist and promoter, her mother Mary Ann Jackson, an international dancer & jazz vocalist, and her father Melvin Jackson, was the legendary saxophonist for more than 20yrs with none other than the late King of the Blues, B.B. King. Extending the family lineage, this international recording artist, and mentor, Habaka KFJ, has gone on to perform in the most prominent concert venues, captivating audiences throughout Europe (Theater Donizetti, Tropea Blues Festival, Folk Fest, Bibiena Theater, Women in Blues & Jazz) and in America (Lake Las Vegas, 56th, 57th Annual Hartford Jazz Society Riverboat Cruise, The Palazzo on the Las Vegas Strip, NAACP Freedom Banquet of Las Vegas, Nevada Women's Film Festival, WSRE 26th Annual Wine & Food Classic, Southern Center for Human Rights, Justice Taking Root) and in some of the most prestigious Clubs, Festivals, Theaters, and Cathedrals in the world and even standing and being seated before Nobility.  

Habaka's first recording with the group IZ Army released the LP entitled "The Bomb" under AMP Records. Gospel music, also a passion of hers, led her to record her next LP "Eternal Life" under Exodus Records, as lead singer for the group The Burning Bush, and in Europe her release on MusicOn Gospel CD "Hold On".   Habaka, being one of the most sought after jazz, gospel, and blues voices of today, has collaborated on several projects and recordings and, of course, has also been the featured artist on many of these projects.  Habaka's first ever Holiday Classic CD: "Back in the city...It's Christmas", and "I Will Wait For You" were released under Tate Music Group and  the Jazz inspired "Just Say I Love Him". 

In December 2016 Habaka released her most personal and soulfully inspired album produced by Habaka entitled "Heritage Blue" under Husky Tone Records featuring amazingly outstanding musicians that includes a stellar performance by James Boogaloo Bolden (former bandleader on trumpet for B.B. King), Eric Demmer on sax (formerly with Gatemouth Brown), and James Lamar Boulet on trumpet.  This brilliant recording is a tour de force collection of Blues and Jazz standards, and originals rearranged "Habaka Style" to bring these age-old classics of yesterday into the 21st century. On this new masterpiece release of December 2016, Habaka takes her listeners on a journey from Blues to Jazz, and Soul to Funk from pleasure to pain and everywhere in between.  

This is Habaka stepping into her inheritance, coming from such a rich family legacy, and by vowing to continue to extend that legacy, she is considered to be one of the last authentic Blues, Jazz voices in her genre today...she wears the crown. After all, it's her DNA!